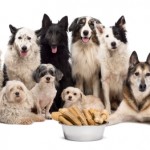 Dog food labels can be misleading and hard to understand.  The following is a brief guide on assessing the quality of the food you are giving your dog from the label.
Composition
The ingredients must be listed in descending order by weight.  These can be listed by category names (eg, meat and animal derivatives, cereals, vegetable derivatives), or by individual ingredient (eg, chicken meal, brown rice, potato, etc).   The difference is that category names do not tell you exactly what the ingredients are – they could be anything.  They also allow the manufacturers to be vague.  Often cereals as are used as fillers, to bulk the food out, and the general term "cereals" also does not tell you what cereals are actually in the product.  The same goes for "meat and animal derivatives" vs "fresh meat" or "meat meal".  Both are protein sources, but one states the protein source whilst the other is vague and therefore likely to be of a lesser quality.  The quality of the ingredients will of course reflect in the price.
Analytical Constituents
The percentage of crude protein, oils and fats, fibre, ash and moisture (if over 14%) must be listed.  However, while the percentages look less on a tin than dried food, this is misleading because you can only apply the analysis to dry matter (water does not contain protein for example).  This means you have to subtract the moisture content to work out the actual percentage.
Social Share